Yeoman CL5 stove

based on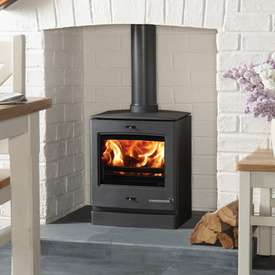 The CL5 is a tradionally styled stove which is highly efficient and can come as a woodburner or as a multifuel stove. This stove is also defra exempt along with the smaller version (the CL3).
Technical Data
Height:

518

mm
Width:

435

mm
Depth:

303

mm
Fuel: Multifuel
Nominal Heat Output: 4.9kW
Efficiency: 85%
Most Recent Review
Bought a Yeoman CL5 wood burning stove 3 years ago and it was installed by HETAS engineer. I burn kiln dried oak but cannot get it to burn slowly or efficiently. It either burns 2-3 logs per... [ read more ]

Stove expert replied: The air controls will give you a varying amount of control on the rate of burn and a minimal change should allow for a gentle flame to be achieved, if this is not possible then the installation should be checked to make sure that the flue draw matches the recommendation by the manufacturer and is not greater causing the over-drawing periods. You say the glass goes black is this because you shut the air control completely as this would then be expected?
Most Popular Review
We have had our yeoman cl5 4 years now and what a fantastic little multifuel stove it's been, with large glass door so you get a great view of the flames and never fails to deliver. We virtually... [ read more ]