Woodwarm Fireview doublesided stove

based on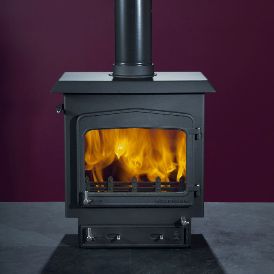 The Woodwarm Fireview doublesided stove is a free standing model with a door on either side.
It is available with a flat top or with a canopy.
This changes the look of the stove quite a lot.
Most Recent Review
Two winters use on Dartmoor , has heated the whole house solely , no other heat source , lit stove in December and has never gone out . All of our friends admire it and are jealous of our good... [ read more ]

Stove expert replied: Please insure that once a month the stove is let out and thoroughly cleaned, ideally drop the baffle plate down and remove any debris to insure the air flow remains un-restricted.
Most Popular Review
This is an excellent stove. Installed 18 months ago (Summer 07) so ahve had two winters' use. The double sided feature is excellent providing you have sufficient depth of wall between two rooms... [ read more ]
More reviews for Woodwarm Fireview doublesided stove
The biggest waste of 1600 pound you will ever spend.

Stove expert replied: Provide further details as this does not tell anyone much about what problems you have experienced!

I carried out loads of research into double sided stoves at one point favouring Hunter. However the build quality of the Woodwarm against the Hunter, feedback obtained both online and from tradesman... [ read more ]

you can get these stoves in colored finishes and it is ok on a 12mm hearth provided it has 100mm legs