Woodwarm Fireview 5 Slender stove

based on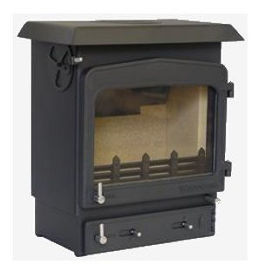 The Firewarm 5kw stove is available as a woodburner, with or without a boiler, optional plinth and varying leg heights.
Most Recent Review
Previously had a Morso squirrel and the glass used to soot up very fast. This Woodwarm is much better - an almost perfect view every time - especially enjoyable for a ex fireman! I am quite... [ read more ]

Stove expert replied: The ash pan should be emptied regularly to prevent the ash from building up close the the grate system, ideally every day. If the ash builds up close to the grate this can lead to premature failure as the air is unable to circulate to cool the grate down.
Most Popular Review
We had this Woodwarm fitted in May this year, little did we know that our gas boiler was going to give a lot of trouble, so over the last month, the woodburner has been pressed into use to heat... [ read more ]

Stove expert replied: Sounds a lovley stove, good review.
More reviews for Woodwarm Fireview 5 Slender stove
researched which fire to buy for a small room, survey carried out, visits and comparisons completed - I made my purchase. What a disappointment, most heat goes up the chimney. Works best with... [ read more ]

Stove expert replied: Do get the flue draw checked as it sounds like the flue draw is excessive and is pulling the heat out of the stove before it can heat the stove / room. Can you shut the stove down to a slumber mode? Make sure that the fuel you are using is dry and well seasoned with a moisture content of less that 20%.

We had the Wood Burner fitted in May 2012, and since then the house has been transformed, we have a 12 years old house with good insulation, but since using the Woodwarm, the whole house has... [ read more ]

Super stove this is my fifth year of ownership,had no problems ,never had a dirty glass once. I am using the rear flue outlet to Isokern flue liners and burn wood only and make sure it is less... [ read more ]