Woodwarm Fireview 4kW inset stove

based on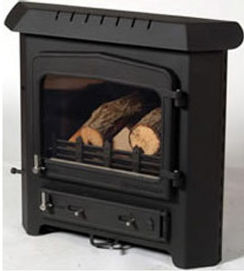 The Woodwarm Fireview 4kW inset is a traditional 4kW insert stove which is easily installed into an existing English fireplace opening.
Most Recent Review
Looks great but heat output was not great. My brother had to use coal to get sufficient heat and left the door open. A next door neighbour has a small free standing stove and it belts out the... [ read more ]

Stove expert replied: A boiler stoves priority may be to the water with a smaller output to the room, did you have the calculations done before purchasing this model? When installed was it insulated around the inset box to prevent the generated heat from being absorbed by the surrounding materials? A free standing stove will need a good clearance around it to allow the generated heat to freely radiate into the room so do make sure that if you change to an alternative stove you check these details out prior to the purchase.
Most Popular Review
I have this stove in know 6 months and i have saved the price of it in coal and logs already as this stove run (24 7) 7 day a week. You can turn this stove down at night get up in the morning... [ read more ]
More reviews for Woodwarm Fireview 4kW inset stove
I have the 6kw inset stove and a reestanding stove, both Woodwarm, the inset is a fantastic piece of kit and far out performs the freestanding stove. you have to put these stoves in properly... [ read more ]

GREAT STOVE, DONE MY HOMEWORK BEFORE I PURCHASED, LOOKED AND REVIEWED LOTS OF INSET FIRES, PURCHASED THE LOW CANOPY VERSION, CANT FAULT IT, BUILD QUALITY EXCELLANT, WELL RECOMMEND IT

THIS STOVE WAS PURCHASED TO FULFIL TWO ROLES. FIRST WAS TO USE THE STOVE TO STOP THE OPEN FLUE FROM MAKING THE 21FOOT X 13FOOT ROOM, THE COLDEST ROOM IN THE HOUSE, (NOW ITS THE WARMEST). SO... [ read more ]

Stove expert replied: Great review, one surely satisfied customer!