Windy Smithy Louis Ranger

based on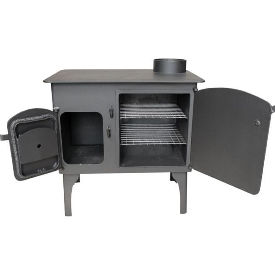 The Windy Louis Ranger is a small range suitable for a houseboat or caravan.
It has a 4kw output and a charming individual look.
Most Recent Review
Jon fitted this little stove into my motorhome two winters ago and I have been thrilled with it. I mostly use old pallets so it heats up quickly for cooking and once dinner is cooked, laundry... [ read more ]
Most Popular Review
I bought this little stove for an 'eco' caravan I was building. The caravan was for long term use so I needed something that I could cook on, space heat and heat water.This little stove was... [ read more ]
More reviews for Windy Smithy Louis Ranger
If you use dry oak, for example, chopped fine, then the hotplate/cookbox heats up well. Keeping it going overnight is a bit of an art, you need to reload maybe a couple of times at least, but... [ read more ]

I bought this stove for a yurt I was living in with the hope of doing a lot of cooking on it. For the price it's good but for cooking it didn't really meet my needs I could never get the oven... [ read more ]

Stove expert replied: sounds like wet wood was being used if kindling had to be oven dried. When issues with stoves arise then it is always a good to contact your supplier to try to work the problem through. Windy Smithy owner Jon Snow contacted us to say that if any of their customers experience anything similar that he would be pleased to work through any problems with them. Good customer support from this supplier.