Glaisdale stove

based on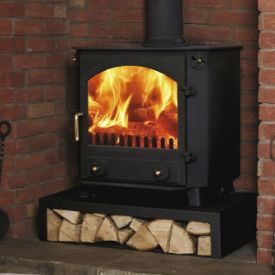 The Glaisdale stove is a 10kw multi fuel stove with the option of adding a canopy.
The canopies on the Town & Country models can be added afterwards, without removing the flue pipe, as they slide on to the top plate of the stove & there is a cut out for the flue pipe on the canopy.
This Town & Country stove has one door to the fire box with a glass panel for viewing the fire.
Most Recent Review
I have just had a Glaisdale stove installed and, like others who have reviewed this stove, I too find the pin holding the door to the stove body continuing to work its way out. I fear that if... [ read more ]
Most Popular Review
The up side: Looks terrific, you can cook on the flat top, throws out masses of heat, stays in well at night, very economical when using good quality timber.The down side: Poorer performance... [ read more ]
More reviews for Glaisdale stove (page 1 of 2)
1