The Petworth 8kw

based on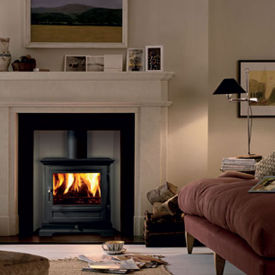 A traditional, 8kW stove from Chesney.
Most Recent Review
My local dealer recommended either the Clearview Vision 500 or an 8KW Chesney for our 20 x 15 living room which is triple aspect and on a hilltop so quite exposed to the elements. They stated... [ read more ]

Stove expert replied: Some disappointing problems but you seem to have learned to live with them. An alternative to a stove thermometer is a flue thermometer which may be easier to see and gives accurate indication of the best working temperatures. Regarding the glass vibrating, was the flue draw checked at the time of installation, if you have a strong draw this may be causing the problem and can lead to less control of the unit and higher fuel consumption. If this is found to be the case a flue damper or stabilizer can be fitted to rectify this, ask your installer for further assistance.
Most Popular Review
Fantastic stove had for 12 mths would buy again Major problem as now moving house and no gas only LPG DO NOT UNDERSTAND WHY CHESNEYS DO NOT DO LPG Paul J

Stove expert replied: LPG stoves are not that common and manufacturers will only invest where they can see a good return for their money!
More reviews for The Petworth 8kw
Great fire have got clearview which was what i thought was the best but chesneys woodburner is just as good but better lookingonly negative is my son wanted to purchase but is not available... [ read more ]

I have had stoves before but nothing quite like this. Such friendly advice from Chesneys sales team and good installation service. I had to wait a few weeks to be installed but well worth the... [ read more ]

Stove expert replied: Lovely feedback for this stove.

This is my fifth stove in three houses. And i'll be taking this one with me if I ever move again. Had an initial problem with the air control lever but rang Chesneys who responded well and got... [ read more ]