The Flatford 8kw

based on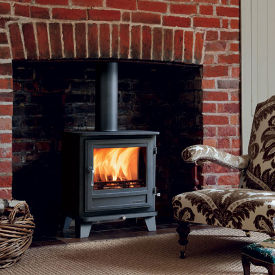 A traditional, minimalist 8kW stove from Chesney
Most Recent Review
Gas Flatford 8 installed 2012, when chesney first manufactured gas stove. In 2019, (November) the pilot assembly had to be replaced...and a new one sent. But this will not attach to the gas... [ read more ]

Stove expert replied: Hmmm that doesn't sound that great for you Elaine - sorry to hear about your experience, and on top of that Parkinsons. I'll send you an email to see if there's anything I can do to facilitate, can't guarantee that I'll be any more effective than you.
Most Popular Review
Nicely built ,looks great easy to use and access , handle works well.Takes a while to get going & seems to use a fair amount of wood probably due to size but really kicks out heat when it does... [ read more ]

Stove expert replied: Fair review of this stove.
More reviews for The Flatford 8kw
I have run this stove on seasoned hardwood for over two years now. The stove looks good and performs very well. It is easy to light and pumps out a lot of heat. The airwash system is very effective... [ read more ]

Stove expert replied: If the throat plate fails quickly, it may be that you have a strong draw that is making the stove work hard. If the stove does not appear to be very controllable this would be worth checking more thoroughly.

Purchased and operated Flatford 8kw over a year now.We use it as a secondary heat source in a very large and tall living room. During the winter it was on every day from 1500 to 2200 hrs. We... [ read more ]

Stove expert replied: Overnight burning is not generally recommended as glass will become discoloured. Clean with short periods of fast burn or a cloth dipped in woodash.