The Barrington 6kw
based on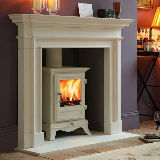 The Chesney Barrington features a traditional, refined ivory finish,
Most Recent Review
My stove is at one year old suffering with the ash riddle grate jamming again, a new one supplied as a good will gesture by Chesney already. Was told this is a part that will distort and can

be purchased separately and the glass will only stay clean if fully vented which is not recommended by Chesney. Save money and buy a cheaper stove.

Stove expert replied: Try not to over riddle the stove, only riddle until red embers start to fall into the ash pan - this way there will be ash to protect the grate. The ash in the ash pan should then be removed immediately to prevent it from building up and over heating the underside of the grate which should have a gap to allow air to pass through and help to cool it.
Most Popular Review
I was told they were the best on the market, I don't think so! Trouble from the first week, paint flaking off flue and now off the top of the stove. Top baffle plate as bowed, so need a new

one! Recommend you steer clear, buy another make! you can't get spares from Chesneys, they don't want to know you, they just say see your loacl supplier> NIGHTMARE STEER WELL CLEAR!

Stove expert replied: Paint peeling off flue, did this get touched up after installation as unless the original paint had cured (during the first few firings) then over spraying will cause the paint to peel! The top baffle bowing, how old is the stove? This may be caused by an over drawing flue or by over firing the stove and may not be a manufacturing fault. Many manufacturers do not offer a direct spares replacement service and would expect their dealers to supply.
More reviews for The Barrington 6kw
Well-what can I say.......how sad in all respects......The dealer said that this was the best cream stove and put me off the cheaper stoves. Took 3 months to arrive and then after I had the

same problems with discolouration and paint flaking, I was told that it was the way I was opearating it.

Stove expert replied: Enamel stoves can discolour when being fired and this should always be taken into consideration when puirchasing.

We have had 3 Cream stoves in 6 months all 3 have gone battleship grey! Also on all 3 the lever for the grate has fallen out and on one the wholeStove was not stable enough and caused the flue

to come loose as the stove movedFrom side to side.Roles Royce of stoves I don't think so more like a robin reliant

Stove expert replied: Enamelled stoves can change colour when hot but not normally to this extent. Rather sad.