The Barrington 8kw

based on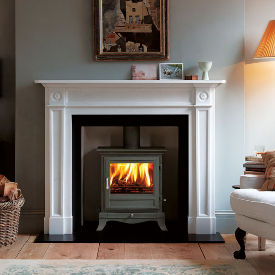 A larger 8kw, ivory finish stove from London firm, Chesney.
Most Recent Review
Well, how can I say this? In a nutshell we bought this log burner in question and all I can say is that the heat out put is incorrect, the stove seems to lose heart all up the flue. When... [ read more ]

Stove expert replied: It sounds very much like you have an over-drawing flue system that is sucking the heat out of the stove before it can heat the body and radiate into the room. I would suggest you contact the installer to see if a damper or stabnilizer can be fitted which will given you better control and should impriove the heat out put into the room. I doubt the problem is the stove!
Most Popular Review
Stunning looking stove, though as was the case with another review the paintwork on the door began to peel within a month of using stove. We are now on our third door - chesneys were happy to... [ read more ]

Stove expert replied: Disappointing re-occuring problem with this stoves' door, probably not cleaned / prepared correctly before painting takes place. A great shame!
More reviews for The Barrington 8kw
Its early days at the moment as we've only had the stove installed a week ago so I can only comment on the experience so far. We have found the build quality good though personally I think the... [ read more ]

Stove expert replied: Great feedback, enjoy this new baby feeling!!!

Terrible, the paint on our first door flaked off in 4 months, Chesney told me I had done something to the door and reluctantly replaced the door. Hey presto after 3 months of use the second... [ read more ]

Stove expert replied: it sounds like a batch of cast iron doors might have either been a little dusty or perhaps damp when they were painted. Various companies to provide 'white labelled' stove paint - there are in fact only a few manufacturers of stove paint but many more brands.