Stovax Stockton 7 Inset Convector stove

based on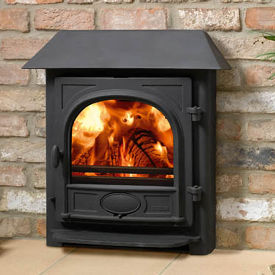 The single shaped door on the Stovax Stockton 7 Inset Convector stove gives a good view of the fire. There is an optional low canopy available for this stove which gives a more traditional appearance to the stove.
Technical Data
Fuel: Multifuel
Nominal Heat Output: 7kW
Most Recent Review
I thought the temperature wouldn't be enough but saw that it worked from 110C, so got one. Sure enough, it started to spin at 96C the first time. The second time, it was 116C. If you give it... [ read more ]

Stove expert replied: As there appears to be considerable heat in the surrounding materials was this installed as per the manufacturers instructions? Inset stoves often require insulating around the inset box so that the generated heat radiates from the stove front and not from the sides.
Most Popular Review
I originally wanted a freestanding stove but couldn't so the Stockton 7 Inset was a compromise but I have to say I am very pleased with it.It was quite expensive compared to Stovax freestanding... [ read more ]

Stove expert replied: Insulating an insert stove well will make all the difference to the heat generated. Good review.
More reviews for Stovax Stockton 7 Inset Convector stove (page 1 of 2)
1