Stovax Stockton 7 Inset Convector stove

based on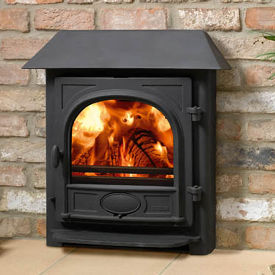 The single shaped door on the Stovax Stockton 7 Inset Convector stove gives a good view of the fire. There is an optional low canopy available for this stove which gives a more traditional appearance to the stove.
Most Recent Review
To get the best out of this stove, buy a cheap Apollo oven thermometer and sit it on top of the stove. You should be aiming to get a reading approaching 200f. The metal temperature will actually... [ read more ]

Stove expert replied: A stove thermometer is the best solution to insure that you are using the stove efficiently, it has the markings to guide you for the correct operating temperatures. This is a problem though when an inset stove is being used, seems the customer has found his own alternative.
Most Popular Review
I originally wanted a freestanding stove but couldn't so the Stockton 7 Inset was a compromise but I have to say I am very pleased with it.It was quite expensive compared to Stovax freestanding... [ read more ]

Stove expert replied: Insulating an insert stove well will make all the difference to the heat generated. Good review.
More reviews for Stovax Stockton 7 Inset Convector stove (page 1 of 2)
1