Stovax Stockton 6 stove

based on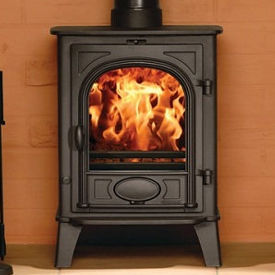 The Stovax Stockton 6 stove is a plain model with one door with one plain glass window in the door.
This stove is available as a wood or multi fuel version.
As the output of the stove is over 5kw you need to have an air vent into the room.
Technical Data
Height:

609

mm
Width:

456

mm
Depth:

380

mm
Flue Diameter: 125mm
Fuel: Multifuel
Nominal Heat Output: 6kW
Efficiency: 80%
Most Recent Review
Our initial stove was not a good exeperience. I got sucked into efficiency ratings. I can''t fault the first stove because it was not installed correctly due to the design of our fireplace.... [ read more ]

Stove expert replied: The warranty, with any stove, is with the company that you have paid your money to and most manufacturers do not deal direct with the general public. That is why their stoves are sold through various outlets that offer this service and should assist you with the technical details for the installation etc. Good solid ratings for this stove.
Most Popular Review
cannot find a bad word to say about this stove, simply fantastic. glass only discolours when burning coal (& wet wood) as do most stoves. know there are more expensive models out there but why... [ read more ]
More reviews for Stovax Stockton 6 stove