Stovax Stockton 5 stove

based on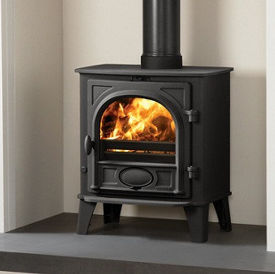 The Stovax Stockton 5 stove is available as a wood or multi fuel version.
This stove does not need an air vent into the room as the output is not above 5kw.
The flue can exit from the top or the back of the stove.
The Stockton range is also available in coloured finishes - but the colours are not bright -
more a hint of colour.
Technical Data
Height:

544

mm
Width:

481

mm
Depth:

335

mm
Flue Diameter: 125mm
Fuel: Woodburning
Nominal Heat Output: 4.9kW
Efficiency: 85%
Most Recent Review
Installed in September 2019 and whilst the company installing did a good job on the fireplace and ''were'' extremely helpful at first, the stove itself (wood burner not multi) just couldn''t... [ read more ]

Stove expert replied: It does sound like you have very strong draw where you are David. You're right you need to select the stove and design the chimney system based on the characteristics at each site - but I wouldn't so much blame the stove here as the system designer. With any stove it's also not always clear how the system will perform until the installation is done - conditions and chimney draw may have been fine when the site visit was done and then later changed.
Most Popular Review
Updated my 18 yr old Morso squirrel for this stove wanted to see dancing flames through clear glass this stove was very efficient at consuming my winters supply of 3 yr seasoned hardwood in... [ read more ]
More reviews for Stovax Stockton 5 stove (page 1 of 6)
1