Stovax Stockton 5 stove

based on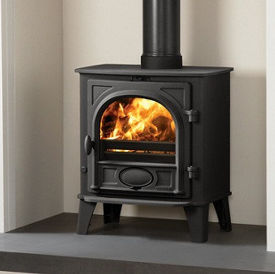 The Stovax Stockton 5 stove is available as a wood or multi fuel version.
This stove does not need an air vent into the room as the output is not above 5kw.
The flue can exit from the top or the back of the stove.
The Stockton range is also available in coloured finishes - but the colours are not bright -
more a hint of colour.
Technical Data
Height:

544

mm
Width:

481

mm
Depth:

335

mm
Flue Diameter: 125mm
Fuel: Woodburning
Nominal Heat Output: 4.9kW
Efficiency: 85%
Most Recent Review
We had this stove installed in October. Following great recommendations... would not recommend now having used it. It seems to burn through good seasoned hardwood very quickly and let''s off... [ read more ]

Stove expert replied: If a stove is working hard and producing little heat it usually means that the stove draw is excessive and there will be little control. The controls will struggle to make any difference as the air is being pulled through the stove up the flue before it can heat the body and radiate into the room. I would suggest further investigations to eliminate the stove being at fault when it sounds very much that the flue is the problem.
Most Popular Review
Updated my 18 yr old Morso squirrel for this stove wanted to see dancing flames through clear glass this stove was very efficient at consuming my winters supply of 3 yr seasoned hardwood in... [ read more ]
More reviews for Stovax Stockton 5 stove (page 1 of 6)
1