Stovax Huntington 35 stove

based on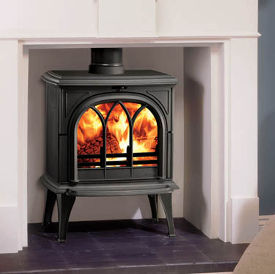 The Stovax Huntington 35 stove is available as a multi fuel or wood burning model.
This cast iron stove has 1 door & the glass is either clear or has lattice work on it.
The Huntington stove has air wash & cleanburn.
The wood burning stove does not have an ash pan.
The stove is either enamelled or matt black finish.
Most Recent Review
We bought an 11 year old second hand Huntington 35 in autumn last year to heat our unfinished (only just watertight) barn conversion with 2 foot thick walls.It was one of the best buys we made... [ read more ]
Most Popular Review
I'm not an expert. Although we wanted an efficient stove, we also wanted a decent looking one. We went for the Stovax Huntingdon 35 (7.5 output)with tracery windows and indeed it looks superb... [ read more ]

Stove expert replied: Good feedback with two stoves being operated side by side, easier to compare differences.
More reviews for Stovax Huntington 35 stove
Looked at all the stoves, previously had a vermont casting intrepid 2 for 16 years which looked great but was not the best design. The look of the burner being important and more so build... [ read more ]