Scan Andersen 4-5 stove

based on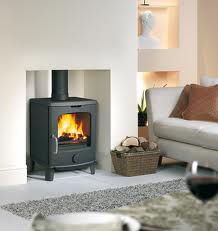 The Scan Andersen 4-5 stove is available with a cast iron top plate or a soapstone top plate. This stove has a firebox opening of 200 x 305mm.
Most Recent Review
We''ve had ours for about 8 years now, and it''s been faultless. I need to install new door seal rope, which I assume for ease needs the door to be removed but I can''t see how to do so. There... [ read more ]

Stove expert replied: The rope can be replaced in situ if you are unable to remove the door, just ensure that you remove all previous adhesive and re-attach the new rope in the same place, allow to dry fully before closing the door and using the stove.
Most Popular Review
We fitted the Andersen 4-5 about three years ago in place of a 30-40's tiled fire & surround in our late Victorian house.Anyone thinking of replacing their open fire should just get on with... [ read more ]

Stove expert replied: Good feedback with helpful observations!
More reviews for Scan Andersen 4-5 stove (page 1 of 3)
1