Scan Andersen 4-5 stove

based on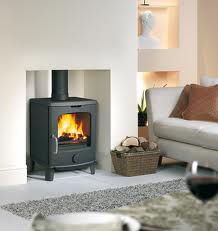 The Scan Andersen 4-5 stove is available with a cast iron top plate or a soapstone top plate. This stove has a firebox opening of 200 x 305mm.
Most Recent Review
The Scan Andersen 4-5 has proved to be an easy-to-light, controllable stove that pumps out a massive amount of heat for its size. But if you're a fan of the quiet life, steer clear of this stove... [ read more ]

Stove expert replied: Ash should not be left to mount up in an ash pan as this can lead to a shortening of the grates life, a clear space below the grate is recommended and should be maintained. Really disappointing that this stove is making a noise that is causing you distress and that you have been unable to get any assistance as this does mar the whole stove experience somewhat. Certain aspects still scoring well.
Most Popular Review
We fitted the Andersen 4-5 about three years ago in place of a 30-40's tiled fire & surround in our late Victorian house.Anyone thinking of replacing their open fire should just get on with... [ read more ]

Stove expert replied: Good feedback with helpful observations!
More reviews for Scan Andersen 4-5 stove (page 1 of 2)
1