Parkray Consort 5 Slimline

based on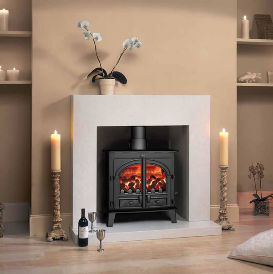 The Slimline 5 is a slender version of the Consort 5, the Slimline 5 has a shallower fuel bed so can be fitted on a smaller hearth.
Most Recent Review
Had this stove just over a year. I was assured by the company we bought it from that it would more than heat our living room 23' x13' when burning at capacity and we wouldn't need our radiators... [ read more ]

Stove expert replied: The size of stove purchased may be small for the area that you are wishing to heat as if poorly insulated I have calculated that this space will require 7.8kW basing the height of the room on 9ft. The stove purchased has a maximum output of 6kW with the nominal (average) being 4kW. Using smokeless fuel on it will give you the best heat output as it is a more even heat than wood which varies during the burning period on the amount of heat produced.
Most Popular Review
Noisy click sound as metal expands and contracts can irritate -heat output not as great as some other models but an OK stove I only burn wood, so if you burn other solid fuels you may have... [ read more ]

Stove expert replied: If this is a new installation I would go back to supplier about the noise as there may be a way to overcome this!!
More reviews for Parkray Consort 5 Slimline