Morso Panther stove

based on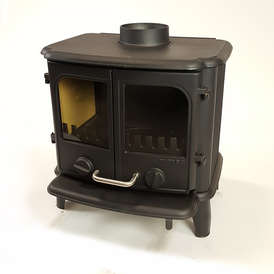 The Morso Panther is a cast iron multi fuel stove.
Morso is a Scandinavian stove make with a 10 year body guarantee.
The Panther has 2 doors, both with with glass in them.
The Panther has primary and secondary combustion - making it a cleanburning stove.
The Morso Panther is also available as a convector model and used to be available with a back boiler.
Technical Data
Height:

605

mm
Width:

598

mm
Depth:

505

mm
Flue Diameter: 150mm
Fuel: Multi fuel
Nominal Heat Output: 8kW
Efficiency: 72%
Most Recent Review
Hello I'm really new to this. I have only used old fashioned cast iron stoves at camp in my youth, but I have converted our garage into a apartment as my parents are getting older and my sister... [ read more ]

Stove expert replied: I have emailed you the exploded diagram of parts that make up this stove for your information. Did you get a manual with the stove as this gives guidance regarding how to operate it effectively and efficiently? If not this can be downloaded from the internet. The grate in the bottom of the stove will allow you to use smokeless fuel or wood on the stove and for wood burning you would not use the riddling mechanism but leave the ash to build up to a good bed, this will only need to be removed periodically as wood burns best on a bed of ash with an over draught. Perhaps once installed and you are using the stove you will review it from a working point of view.
Most Popular Review
Very pleased with this plain cast iron stove - the handle runs very smoothly -easy to light -in fact possible to run at either 2-3kw output or much higher.Will happily burn 1 piece of wood for... [ read more ]
More reviews for Morso Panther stove (page 1 of 3)
1