Morso Panther stove

based on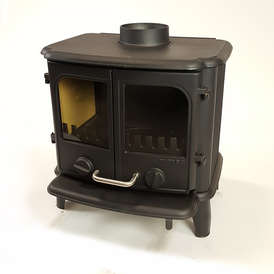 The Morso Panther is a cast iron multi fuel stove.
Morso is a Scandinavian stove make with a 10 year body guarantee.
The Panther has 2 doors, both with with glass in them.
The Panther has primary and secondary combustion - making it a cleanburning stove.
The Morso Panther is also available as a convector model and used to be available with a back boiler.
Technical Data
Height:

605

mm
Width:

598

mm
Depth:

505

mm
Flue Diameter: 150mm
Fuel: Multi fuel
Nominal Heat Output: 8kW
Efficiency: 72%
Most Recent Review
We bought this stove 2 years ago our first year mid winter our secondary air flow lever began to seize this was replaced , recently 3 months into our winter we're having further problems with... [ read more ]

Stove expert replied: If a stove gets too hot it can cause components to expand and then not be operable. Have you a stove thermostat so you can see the correct operating temperatures? A graphite lubricating spray or powder may help to allow moving parts to run freely. A stove should not be running a full capacity continually but being operated on a nominal setting where the flames are dancing steadily with short bursts of max heat to burn off residues produced when operating on a low setting. (maximum operation should be no more than 15 - 20 mins when the fire is established). The average heat output of this stove is 8kW so is suitable for medium to large room depending on other heat sources etc. If you operate the stove on maximum for long periods you invalidate the warranty and stand to distort components and possible crack the casting.
Most Popular Review
Very pleased with this plain cast iron stove - the handle runs very smoothly -easy to light -in fact possible to run at either 2-3kw output or much higher.Will happily burn 1 piece of wood for... [ read more ]
More reviews for Morso Panther stove (page 1 of 3)
1