Mendip Woodland Stove and Convector stove

based on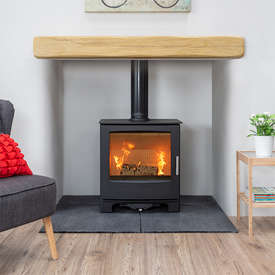 The 5kW EcoReady Mendip Woodland stove is available in a standard or convector model.
Technical Data
Height:

615

mm
Width:

570

mm
Depth:

340

mm
Flue Diameter: 125mm
Fuel: Multifuel
Nominal Heat Output: 5kW
Efficiency: 81.1%
A design that needs a complete rethink. Sharp edges underneath the stove, so when adjusting airflow, danger of cutting yourself. Log retaining bar far too small. Open the door and the log falls... [ read more ]

Stove expert replied: The Mendip Woodland model is a wide fronted stove with a low output of below 5kW and due to itsí design can be installed close to combustible walls, itsí slim design keeps the output below 5kW. When burning this stove one log should be burnt at a time using 1.2 -1.4 kg of wood. The log retainer is designed for this style of burning and if operated as described the log retainer will retain the logs within the fire chamber. The Woodland has a singular air control lever below the door, this lever will remain cool during operation and controls primary/ secondary air into the stove. This levers operation should mean that the operator does not come into contact with the underneath of the stove and a glove is recommended to be used when operating the controls. For a larger output Mendip Stoves manufacture the Woodland Large 8kw this has a deeper chamber. These stoves are made to the highest standard and quality checked before they are sold.