Klover Smart 80 wood pellet cooker

based on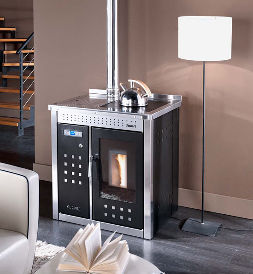 The Klover Smart 80 wood pellet cooker will heat the house and has a hotplate for boiling a kettle or cooking on.
Technical Data
Height:

875

mm
Width:

790

mm
Depth:

630

mm
Fuel: Wood Pellets
Nominal Heat Output: 22.5kW
Efficiency: 90%
Most Recent Review
For the second time the igniter has had to be replaced. Apparently this is normal - they only last a year. At £50 a go plus fitting this is disappointing and should be made clear when buying... [ read more ]

Stove expert replied: The standard Klover ignition element is designed to ignite 1500 times. This should be giving you 2-3 years of ignitions. If the ignition element is failing before 2-3 years then this needs to be looked into to see how many times a day the Klover is igniting as it may be too often, it is likely that this can be improved for you and I would recommend going back to your supplier to follow this up with the UK distributor.
Most Popular Review
Installed this stove in April 2015 to replace an ancient coal fired Boski. It runs 12 radiators and heats our water very efficiently on demand. Much cleaner, conrollable and stylish than the... [ read more ]

Stove expert replied: Great review
More reviews for Klover Smart 80 wood pellet cooker