Klover Smart 120 wood pellet cooker

based on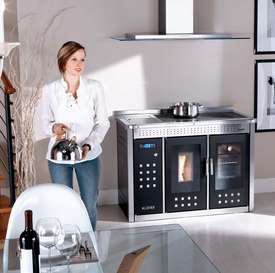 The Klover Smart 120 wood pellet cooker and boiler combines cooking and heating the house in one unit.
It is available as a contemporary model or a more traditional version and is now also available as a wood burning cooker stove providing an alternative to pellets. The Klover Smart 120 is RHI approved.
Technical Data
Height:

875

mm
Width:

1200

mm
Depth:

630

mm
Flue Diameter: 1mm
Fuel: Wood Pellets
Nominal Heat Output: 22.5kW
Efficiency: 90.1%
Most Recent Review
The Klover 120 is ideal for our 16th Century farmhouse. It does everything! Not only does it do all of our central heating and hot water, I do nearly all of my cooking and meals with it too.... [ read more ]

Stove expert replied: Great comments, a very versatile product.
Most Popular Review
We've had this in our kitchen for over two years now and we're really pleased with it. Before we heated our house with a log boiler, so my life has got a great deal easier now and our house... [ read more ]
More reviews for Klover Smart 120 wood pellet cooker (page 1 of 2)
1