Klover Insert 18 and insert 22

based on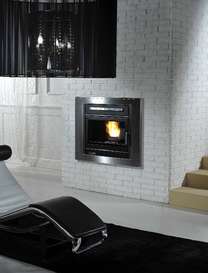 A wood pellet stove that can be installed into a wall and heat all the hot water for your home.
Technical Data
Height:

686

mm
Width:

758

mm
Depth:

675

mm
Fuel: wood pellets
Nominal Heat Output: 14.8kW
Efficiency: 91%
Most Recent Review
We''ve had this stove installed for 3 winters now and genuinely we have no complaints. The stove is quite efficient, using between 2/3 and 1.5 bags of pellets a day (15kg) depending on the prevailing... [ read more ]

Stove expert replied: Great to hear many positives on this very popular insert pellet stove
Most Popular Review
Klover 18kw insert biomass pellet boiler(all singing all dancing boiler) NOT. Installed for about 14 months now.Advised it would burn about 1 bag of pellets a day,need cleaned out once a week and would be sufficient for all hot water needs Let's start with 5 bags a day Cleaning the fire out almost every day(which by the way is a filthy job(rather clean out old style open coal fire) All this supplied and installed by klover recommended installer and recommended by ENERGY SAVING TRUST for Rhi payments Ps Electricity build has shot up considerably... [ read more ]

Stove expert replied: The amount of pellets used will depend on the heat demand in the property. It is important that the stove is serviced regularly like any other boiler. Following a service you should see improved results from your stove. If the stove has been serviced then we would recommend you contact your supplier to take a look at the stove, some settings may need to be changed.