Jotul F 600 stove

based on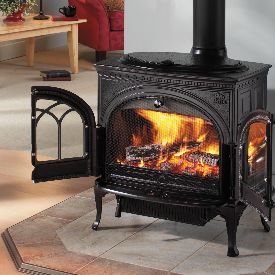 The Jotul F 600 stove has got 2 doors.
There is lattice work on the glass door - the door has a curved top
&
there is some relief work on the sides of the stove.
There is an outside air kit available for this Jotul model and you can use logs up to 550mm long -
as the stove is relatively wide.
Most Recent Review
The Jotul F600 is a very good product. The typical slight Jotul problem is that in slow burn operation the very edges of the glass will fog up and because it is a very airtight unit starting... [ read more ]
Most Popular Review
Huge stove with, when necessary, massive heat output. Large firebox means you don't have to spend hours cutting small logs! Very well finished and good to look at. Door opening mechanism is... [ read more ]
More reviews for Jotul F 600 stove
Very good quality burner, very easy to light& keep going. Only gripe is the handle is a bit fiddly & pretty expensive.