Jotul F 500 stove

based on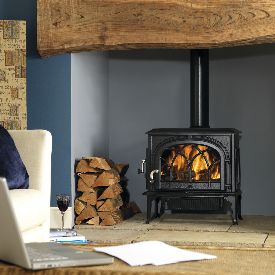 The Jotul F 500 stove is available in matt black & coloured enamel finishes.
The front glass is big & curved on the top
&
is covered with delicate lattice work.
It is a wide model - and the F500 will therefore take logs 550mm long.
There is an optional external air supply for this model.
Most Recent Review
We purchased this Jotul , model F500 in May. it is our only source of heat, replacing our pellet stove. When fire on smart it is OK, when on on, it stinks to high heaven. In this very cold weather... [ read more ]

Stove expert replied: Is there enough air in the room for this size stove? Refer to pages 23 - 25 of the manual for fuel type and how to operate the stove effectively. Go back to the supplier for further assistance if the stove fails to work as expected, they may be able to assist you further as they should know the products well.
Most Popular Review
I have never wasted as much time as I do now, sitting, gazing at the flames through the viewing window of my Jotul 500. What greater pleasure can there be on a freezing Canadian night? Bought... [ read more ]

Stove expert replied: The advice regarding the enamel will apply to any stove, so extra care should be made if you have an enamel model.
More reviews for Jotul F 500 stove