Jotul F 100

based on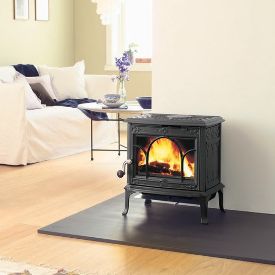 The Jotul F100 is a 5.5kw output stove. The look of this Jotul stove is easy to recognise - it has a plain door or some delicate lattice work on the door.
You can have the stove in enamel finish.
There is an optional multi fuel kit available.
Most Recent Review
In a previous house we had a Dovre (can''t remember the model) which was Ok as a stove but there was a problem with the round cover that goes where you can attach the flue, as the casting cracked... [ read more ]
Most Popular Review
I have marked it down a little because I think Jotul (and others) are a little pricey and the firebox size doesn't allow it to be loaded up for all night burning. I stopped trying in fact as... [ read more ]
More reviews for Jotul F 100 (page 1 of 4)
1