Jotul F 100

based on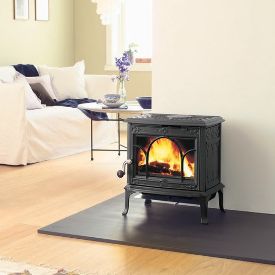 The Jotul F100 is a 5.5kw output stove. The look of this Jotul stove is easy to recognise - it has a plain door or some delicate lattice work on the door.
You can have the stove in enamel finish.
There is an optional multi fuel kit available.
Most Recent Review
I have a Jotul F100. I was advised it would heat the small room I have it in and the heat would travel to other rooms. But the heat extends just a metre or so from the stove.Soon after I bought... [ read more ]

Stove expert replied: If the stove is working hard and not producing much heat, then the flue draught may be greater than what is recommended by the manufacturer. This can be tested, and should it prove to be in excess of this, either a stabiliser or flue damper can be fitted to give the user more control. The heat may be being drawn up the flue before it has time to heat the stove, this could also be the cause of the baffle plate problem as an overdrawing stove can cause distortion to components.
Most Popular Review
I have marked it down a little because I think Jotul (and others) are a little pricey and the firebox size doesn't allow it to be loaded up for all night burning. I stopped trying in fact as... [ read more ]
More reviews for Jotul F 100 (page 1 of 4)
1