Jotul F 100

based on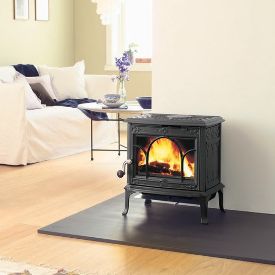 The Jotul F100 is a 5.5kw output stove. The look of this Jotul stove is easy to recognise - it has a plain door or some delicate lattice work on the door.
You can have the stove in enamel finish.
There is an optional multi fuel kit available.
Most Recent Review
We inherited this stove when we moved here. It's a poor thing compared with the 3 wood burners in our previous house (a Jotul, a Morso and a Charnwood). It's hard to light and draws poorly.... [ read more ]

Stove expert replied: It sounds very much as if there is a poor draw on this flue system and this should be investigated by a professional to check that adequate air etc is available to allow combustion to occur. If this is found to be the case then the stove is not at fault. Getting smoke back into the room also indicates a poor draw, not enough air, wrong cowl etc. A full investigation of this installation is recommended as Jotul stoves normally work well producing a good heat.
Most Popular Review
I have marked it down a little because I think Jotul (and others) are a little pricey and the firebox size doesn't allow it to be loaded up for all night burning. I stopped trying in fact as... [ read more ]
More reviews for Jotul F 100 (page 1 of 4)
1