Hwam Ravel stove

based on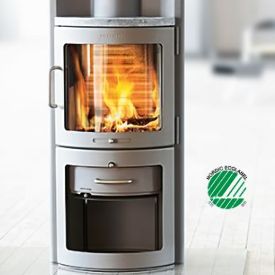 The Hwam Ravel stove is a contemporary wood burning stove made in Denmark.
This Hwam stove is ok to use in a smoke control area.
As the output is les than 5kw you do not need a direct air supply for this model -
but there is a direct air supply kit available for all the Hwam models.
If you use the back outlet flue on the Hwam stoves you would need to have a top closing plate & a rear flue extension kit.
This curved stove has one door with a curved glass panel.
There is a multi fuel kit available for the Hwam Ravel model.
Technical Data
Height:

1040

mm
Width:

512

mm
Depth:

408

mm
Flue Diameter: 150mm
Fuel: Wood burning
Most Recent Review
My Hwam ravel I burn coal mostly as its easy to light and burns great. I've done this for over a year and its been fine. I mostly leave the door open on it when it's lit properly. And I... [ read more ]
Most Popular Review
As as stove to go into a contemporary home this is beautiful and a piece of sculpture. We are in a city so the airwash system is important for complete fuel burning. We burn 2 year old seasoned... [ read more ]
More reviews for Hwam Ravel stove