Hunter Herald 14 stove

based on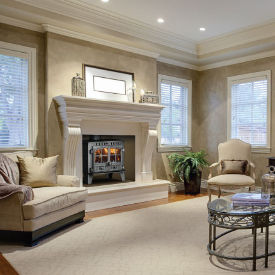 The Herald 14 is the lagest of the Hunter Herald stoves. A steel stove that is available with one or two doors. You have the option of having crosses in the doors or having plain doors. The height given is for the flat top version, there are low and high canopy versions of this stove available.
Technical Data
Height:

644

mm
Width:

730

mm
Depth:

508

mm
Flue Diameter: 150mm
Fuel: Multi fuel
Efficiency: 78.6%
Most Recent Review
Despite being recommended by the people who previously manufactured the brilliant Villager wood stoves, this is, sadly, rubbish if you''re just burning wood. It may be good as multi-fuel, but... [ read more ]

Stove expert replied: Have you got the woodburning option as they make both wood and multifuel stoves? Have you a damper on the flue to help control the rate of burn, they used to have these on the Villager stoves as standard so this may be what is needed. It is not recommended to burn a wood stove overnight as it will have to be shut down on a low setting for a long period which is not good for the flue system.
Most Popular Review
I have had this stove for a couple of years now and it does what it says on the packet. I can get lots of fuel into it, keep it in overnight, and it heats the whole house as I have a backboiler... [ read more ]
More reviews for Hunter Herald 14 stove (page 1 of 5)
1