Firemaster 5 stove

based on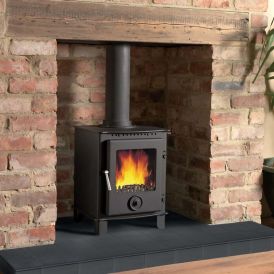 The Firemaster 5 is a 5 Kw wood burning or smokeless fuels stove with a smokeless option.
Most Recent Review
Had two of these for 8 years and the are brilliant. Easy to clean, look good and produce great heat.

Stove expert replied: Short and to the point. Great comments.
Most Popular Review
This is the first multi-fuel stove we have used, so it took us a little while to learn how to use it. We are using both smoke-less fuel(Ovoids) and seasoned hardwood logs, and we are delighted with the performance. It will "tick-over" all day on one load of Ovoids,and then in the evening, we open up the vents and throw on a couple of logs to give more flame. The heat output is very impressive for a relatively small stove. ... [ read more ]

Stove expert replied: Multifuel stoves do give the option of burning smokeless fuels and wood to suit different needs depending on your requirements. If you are having to buy fuel it is worth pricing each to see which gives better value and performance.
More reviews for Firemaster 5 stove
Nice little stove but be prepared to buy lots of grates. After only a few weeks of use the grate starts to melt. I''ve had to replace it after every winter so after 5 years it cost's a lot.... [ read more ]

Stove expert replied: Try leaving a small bed of ash to protect the grate from direct heat, do remove any from ash pan frequently to prevent the grate from being heated from both sides. Only riddle the stove until you start to see red embers in the ash pan.

I have this stove but it has a different handle and catch set up to the one in the photo. It doesn't always hold the door closed sealed shut. I've called the manufacturer who advised me to tap... [ read more ]

We were initially very pleased with this stove then after less than 4 months, the glass on the door cracked. We called Cast Tek who said it wasn't covered by warranty and they wouldn't replace... [ read more ]

Stove expert replied: No manufacturer covers glass under warranty, it is a shame that you're rating the stove on this. It is like buying a car and 4 months later the windscreen cracks, there may be no obvious reason that can be found for this this and understandably it is very disappointing. Warranties do not also cover liners and other consumable parts.