Firefox 12 stove

based on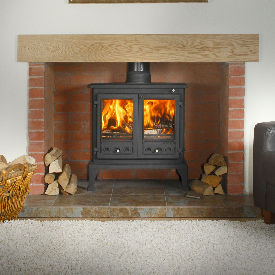 The Firefox 12 is a cast iron multifuel stove which can give out up to 13kW of heat.
Technical Data
Height:

680

mm
Width:

645

mm
Depth:

415

mm
Flue Diameter: 150mm
Fuel: Multifuel
Efficiency: 76%
Most Recent Review
I am baffled. I had Firefox 12 installed a few days ago and I have lit it twice. It is freezing. I am so disappointed. I have to stand by it to feel the heat. I burn briquettes and wood. I had... [ read more ]

Stove expert replied: Would suggest going back to installer as this needs further investigation. With a liner installed the flue draw should be adequate for the stove, is there an airbrick in the room? What sort of cowl is on the flue as an anti down draft one may be required to prevent smoke coming back down the chimney. The chimney / flue system may need to be made taller if there are other flues / chimneys in the property. Was the liner insulated? Have you tried smokeless fuel to see if this works better? Do not give up before all avenues have explored.
Most Popular Review
I took out a Firefox 8 to fit this stove as I was very impressed with that, but the 12 is even better. The double doors make loading logs easy and the size of the fire box is huge so make sure... [ read more ]

Stove expert replied: The problem of the stove going out if a good fire is not in the firebox before shutting down may also be caused by the cold flue, once warmed the draw is more effective and the stove burns well and is controllable. Otherwise a very happy customer who has experience of the Firefox range.
More reviews for Firefox 12 stove (page 1 of 2)
1