Firebelly FB1 double sided stove

based on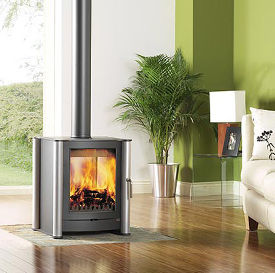 Firebelly stoves are UK produced contemporary models and the double sided models are available with door opening on 1 or both sides.
They can be placed on a log box to raise them up a bit higher.
They are available in quite a few different colours.
Can have multi fuel kit added.
Technical Data
Height:

601

mm
Width:

522

mm
Depth:

423

mm
Flue Diameter: 125mm
Nominal Heat Output: 6kW
Most Recent Review
I ended up with the FireBelly 1 from reading some of the reviews online and due to my size restrictions the FB fitted the gap really well, a lot of the other stoves were either too large or... [ read more ]

Stove expert replied: Firebricks are not covered by warranty with any manufacturer, however, it seems a shame that after such little use there was no offer of compromise (perhaps paying for replacements at cost would have helped a little!). Regarding the blackening of the glass, is there enough free air in the room? What is the flue draw measurement? What is the height of the flue? With the air controls open this should mean that the glass would stay clear, the flames should be busy and normally adjustment to regulate the rate of burn would then be made once an established fire has been achieved. Is this the sigle door version or does the stove have a door either side?
Most Popular Review
Purchased and installed fb1 in Novemeber, advised fitter vermiculite fire bricks cracked after two weeks was asuming this would be sorted under warranty. I was advised that Firebelly will not... [ read more ]

Stove expert replied: Liners are not covered by a warranty in any stove, if they crack they can be used providing they are staying in place and protecting the metal of the stove. Fire cement can be used to patch the two parts together if required.

0

comments

211

You and 134 others
More reviews for Firebelly FB1 double sided stove
The stove is all as website indicated and the service when a basic but easily rectified fault was found in the control plates was OK although required a bit of pushing to get a speedy solution... [ read more ]

Stove expert replied: It is best to leave the door ajar so that a good air movement can be maintained during the summer months and should help to prevent a problem with the liners.

0

comments

117

You and 191 others