Esse 100DD stove

based on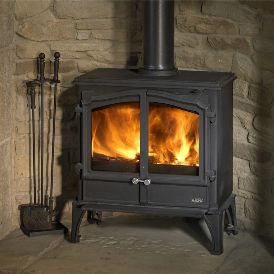 The Esse 100DD stove has double doors. The Esse 100DD SE model is suitable for smoke controlled areas.
Technical Data
Height:

630

mm
Width:

610

mm
Depth:

310

mm
Flue Diameter: 125mm
Fuel: Multifuel
Nominal Heat Output: 5kW
Efficiency: 82%
Most Recent Review
Swapped a original cast Iron cooking range for this Esse upon till instillation my house was cool in summer but freezing in winter however all has changed. I find it easy to light and it roars... [ read more ]

Stove expert replied: You should be able to operate the stove so a gentle flame picture is achieved, the controls should be moved only slightly until this achieved and now the rope seal has been sorted should be easier to achieve.
Most Popular Review
On the whole, very pleased. I was forced to buy a 5kW stove for a room of c6000 cu ft because of lack of venting. It produces ample heat (with minimal CH background) with reasonable log consumption... [ read more ]

Stove expert replied: Recommend emptying ash tray more frequesntly as this will help to prolong the life of the grate system adn makes it easier to handle.
More reviews for Esse 100DD stove
We've had our stove installed for the past year and living in an old cottage we have it on a lot. We found that logs burnt away very quickly and we could not shut it down enough. In the end... [ read more ]

We struggled to get a double door stove at this output of 5kw, but this was perfect. The walls on the cottage where it was fitted were approximately two foot thick with granite, so adding a vent was too difficult. This little steel stove is also made in the UK which is a great feeling when buying.... [ read more ]

We use this only with seasoned hardwood. Terrible to light, has to be coaxed up to temperature and fed with thin pieces until it reaches 260F. After that it gobbles wood, uses as much as our... [ read more ]