Dean Forge Hembury 5 kW

based on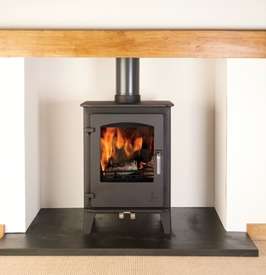 Dean Forge Hembury 5kW DEFRA approved stove.
Technical Data
Height:

645

mm
Width:

460

mm
Depth:

330

mm
Flue Diameter: 125mm
Fuel: Wood
Nominal Heat Output: 5kW
Efficiency: 83%
Most Recent Review
We are now going into our 4th season using this stove. We went for the SE version because of the advice of our fitter he put in a 5 inch flue which then required us to get a Defra Approved stove... [ read more ]

Stove expert replied: Choosing the correct stove for the fuel you are going to use is important, some customers however, like to flexibility that a multifuel stove offers. Ashpans should be emptied regularly and should not be left until full as this will shorten the life of the grate system.
Most Popular Review
This refers to our Hembury 5 SE stove, not the wider W5 variant which may have different sound characteristics. It looks nice, lights very easily, and the air wash is fairly effective and the... [ read more ]

Stove expert replied: Have you been back to your supplier regarding the noise, there may be something that the manufacturer can do? I can only imagine that this can be very annoying and is unusual, I have heard of this before in other stoves and it was to do with a weld that was not complete.