Clarke potbelly stove standard size

based on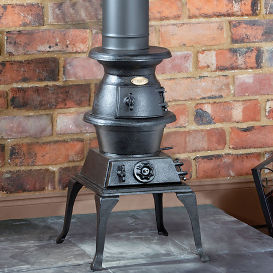 The standard sized Clarke potbelly stove is a traditional small potbelly stove.
Most Recent Review
I should have read some of these reviews before buying. I've had this stove professionally fitted, with all the correct flues etc. This stove had no adequate controls whatsoever. If stuffed... [ read more ]

Stove expert replied: It may not be the stove but a high flue draw that is too strong, check this before you warp the stove. A stove should be controllable so that a steady flame picture can be achieved. If the flue draw is excessive a damper or flue stabiliser will need to be added.
Most Popular Review
I have this fitted in my Camper (converted Parcel Force Iveco) and it is brilliant for the job. It is a small space which gets more than hot enough, even in Scotland in Winter. It is small and... [ read more ]
More reviews for Clarke potbelly stove standard size (page 1 of 2)
1