Churchill 8 stove

based on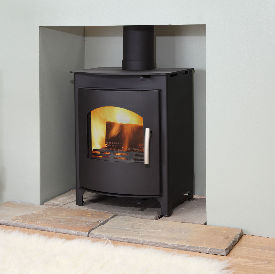 The Churchill 8 is the biggest output of the Churchill range -
the multi fuel model is quite tall and deep and will give an 8kw output.
It carries the Mendip 5 year guarantee.
Weight 91kg.
Technical Data
Height:

660

mm
Width:

510

mm
Depth:

460

mm
Flue Diameter: 150mm
Fuel: multifuel
Nominal Heat Output: 8kW
Efficiency: 80%
Most Recent Review
I would agree with the other reviews of this stove. We''ve had ours for nearly four years and it''s probably on it''s last legs. The metal casing split near the door latch after only a year... [ read more ]

Stove expert replied: If you had a problem of controlling the stove early on the installer should have been asked to attend to check the flue draw, it appears this was not requested which is unfortunate. The metal splitting should have been taken up with the manufacturer under the 5 year warranty that is provided by the manufacturer as soon as this had happened. It will not be valid if the stove has been over fired though. The problem could be that the flue draw is in excess of that which is recommended by the manufacturer. The installer can do a flue draw test and if this is too great, compared to what is recommended, then a flue damper or stabilizer can be added to the system so that the stove can be controlled. If when the air controls are shut the stove is burning fiercely and does not go back to slumbering, then this is likely to be the reason and you can't blame the stove for failing prematurely, it is being exposed to higher than normal temperatures for prolonged periods. I agree this is a costly experience and if you do change the stove, do make sure that you have control of the rate of burn, as similar can happen again if this is not corrected regardless of which manufacturer you purchase from.
Most Popular Review
I had this stove installed end of May 2012. The stove itself is elegant with its curved glass door gives it a rather sleek and contemporary appearance. It is well assembled and welded, and has... [ read more ]

Stove expert replied: I would not recommend blocking any air vents that do not have controls on as this may be dangerous.
More reviews for Churchill 8 stove
Total waste of money looks nice that's about it. The stove started to warp within 6 months took over a year to get our money back, the top vent fell apart and the fire bricks fell out and where... [ read more ]