Charnwood SLX20i inset stove

based on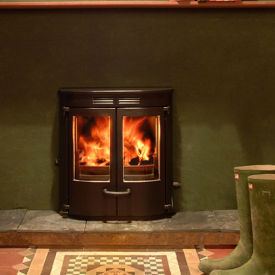 The Charnwood SLX20i inset stove has cast iron doors with a plate steel body. The multifuel grate can be adjusted for wood burning. The two front opening doors allow for logs of up to 280mm in length to be used.
Technical Data
Height:

608

mm
Width:

548

mm
Depth:

430

mm
Flue Diameter: 150mm
Fuel: multifuel
Efficiency: 72.1%
Most Recent Review
Bought this a five years ago and had it slotted into an existing fireplace with back boiler connections. The year before we installed it, we used 2 and a half tanks of oil - approx 2,500 litres... [ read more ]

Stove expert replied: Great savings on heating oil, the proof of the pudding etc....
Most Popular Review
Removed fireplace & open fire early in 2012. Purchased & inserted this stove c/w optional boiler for heating domestic water. Very happy with performance to date. I burn hardwood seasoned blocks & smokeless coal. I would highly recommend this stove & would purchase another one. Sitting room very cosy & warm with plenty of hot water. Very well finished & easy to operate. Took some time to get used to, but worth the wait. Congrats Charnwood.... [ read more ]
More reviews for Charnwood SLX20i inset stove
Really wouldn't recommend this to anyone .. After all the hard work of altering the fireplace and fitting it we can get no or hardly any heat from it unless the door's are open .. The top doesn... [ read more ]

Stove expert replied: Inset stoves should be insulated around the firebox, has this been undertaken to ensure that the heat generated goes to the room and not to the surrounding materials. Worth checking out thoroughly.

We had our SLX20i installed in the summer of 2010 with the optional back boiler linked to a Gledhill tank that also has inputs from our oil boiler, solar panels and also an electric immersion... [ read more ]

Stove expert replied: It is a good thing to try different fuels on any new stove installation as they do vary greatly. The heart of the home in more ways than one for this customer.