Charnwood Cove 3 stove

based on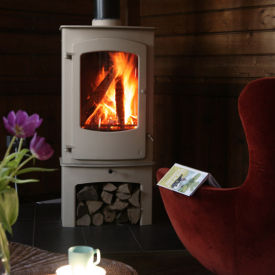 The Charnwood Cove 3 has a heat output of 12kw to the room using cleanburn technology, and the airwash helps to keep the glass door panel clean. The conversion grate allows for wood or multifuel use. Logs of 500mm in length will fit through the door.
There are three different base options, low stand, store stand or centre stand. The picture shows the store stand where logs can be stored. The low stand allows the stove to fit into an existing fireplace opening, whereas the centre stand is for a freestanding situation.
Technical Data
Height:

980

mm
Width:

615

mm
Depth:

458

mm
Flue Diameter: 175mm
Fuel: multifuel
Efficiency: 78.4%
Most Recent Review
We recently replaced our 6KW Austroflamm stove because it was broken and would only burn wood on a high output, which meant we were going through logs at an exponential rate. We thought by replacing... [ read more ]

Stove expert replied: It does sound as if the flue draw / design may be at fault and once this has been revisted may well improve the performance of the stove.
Most Popular Review
After doing some serious homework before purchasing our first stove (over a 12 month period) we decided finally to go with the Cove 3. I tried and failed to find a review of the Cove 3 anywhere... [ read more ]

Stove expert replied: Would recommend a rain cap on the chimney to prevent rain from getting in otherwise a very satisfactory out come from installing this stove.