Charnwood Cove 1 stove

based on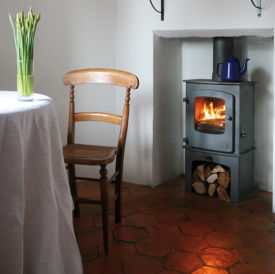 The Cove 1 is a classic multifuel stove from Charnwood with nice rounded corners and cast iron door.
Technical Data
Height:

546

mm
Width:

423

mm
Depth:

352

mm
Flue Diameter: 125mm
Fuel: multifuel
Efficiency: 76.5%
Most Recent Review
I have an external air kit with an underfloor duct though I did have to modify it to have the inlet vertically pointing down instead of horizontally rearwards. The stove is in a kitchen and... [ read more ]
Most Popular Review
Lights easily (with newspaper page, firelighters and kindling - damper pulled right out), glass stays very clear whilst burning wood fiercely, once you turn it almost down with wood or peat... [ read more ]

Stove expert replied: Always do short periods of fast burn (15mins) at least twice a day to burn off residues that are produced during slow burning periods.
More reviews for Charnwood Cove 1 stove (page 1 of 2)
1