Charnwood Island III stove

based on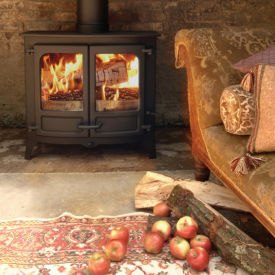 The Charnwood Island III is the largest in the Island range having an output of 12 kw. Logs of 550mm in length will fit through the doors. The grate converts for either wood or multifuel use.
Technical Data
Height:

713

mm
Width:

732

mm
Depth:

400

mm
Flue Diameter: 175mm
Fuel: multifuel
Efficiency: 76.4%
Most Recent Review
This stove replaced an ageing Waterford multi fuel so not a comparison with this stove as we only burn wood on the Charnwood.Aesthetically the Charnwood is stunning and when lit and running... [ read more ]

Stove expert replied: The reason for the difficulties sounds like it is because the stove is in a single storey and hence with have a shorter flue, this will mean that the main chimney has a better draw and will affect this stove even if in another part of the property. Lengthening the flue system may help but a flue draw test may confirm this is the issue. The weather conditions may also affect the flue draw. If it continues to be a problem then a flue fan could be added to be used when required as it appears not to be a continuous problem. This is not a fault with the stove but an installation issue.
Most Popular Review
I replaced an old (huge) Morso stove which was jolly good, but had solid doors and so spat burning embers on the living room floor. The Morso was in effect an open fire with no control, it took... [ read more ]
More reviews for Charnwood Island III stove (page 1 of 2)
1