Charnwood Island III stove

based on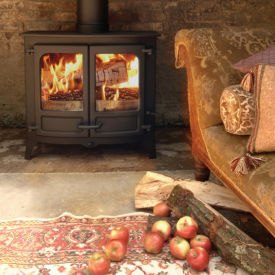 The Charnwood Island III is the largest in the Island range having an output of 12 kw. Logs of 550mm in length will fit through the doors. The grate converts for either wood or multifuel use.
Technical Data
Height:

713mm

Width:

732mm

Depth:

400mm

Flue Diameter: 175mm
Fuel: multifuel
Efficiency: 76.4%
Most Recent Review
I got our Island 3 secondhand in perfect only 5 burns condition. We have moved it to its 3rd position in our house, following renovation work and changing our rooms around. This stove is so... [ read more ]

Stove expert replied: Has the stove never given out the expected heat and is it the right kW for the space you are trying to heat? The installation will be key, especially as you have another working flue in the property which may be preventing this flue from working effectively. If the other flue has a stronger draw then this can prevent this flue from lifting the gases away and will give a sluggish stove and poor performance. The fuel will also be important and wood needs to be dry and well seasoned with a moisture content of less than 20%.
Most Popular Review
I replaced an old (huge) Morso stove which was jolly good, but had solid doors and so spat burning embers on the living room floor. The Morso was in effect an open fire with no control, it took... [ read more ]
More reviews for Charnwood Island III stove (page 1 of 2)
1