Broseley Hercules 30b boiler stove

, page 2 of reviews based on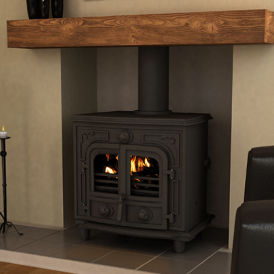 The Hercules boiler stoves come in 3 sizes to suit different output needed.
They have a built in wrap around boiler and the stove has a traditional look.
The front of stove has 2 glass doors and the flue can come out of the top or back.
Page 2/2 of reviews for Broseley Hercules 30b boiler stove
In my experience the 30b is a great stove. I can burn virtually anything and can easily keep going for 8 hours on wood. If you load with coal up to 36 hours burn time can be achieved. This stove... [ read more ]

Stove expert replied: Sounds an amazing stove if you only have to re-fuel every 36hrs on coal / smokeless fuel. Amazing but do make sure that you give the stove short periods of fast burn to maintain a goods clear flue.

We have had our Brosely for 4 years, and a foot long crack appeared on the top. I contacted Brosely through their agent and was advised that my fire only had 1 year guarantee. I emailed my... [ read more ]

Stove expert replied: Cast Iron stoves can't be welded I'm afraid.
2