Aduro 9 stove

based on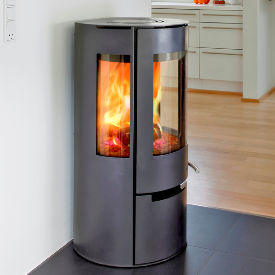 The Aduro 9 is a Scandinavian contemporary wood burning stove.
It is a tall curved stove with 1 curved glass panel at the front and 2 smaller glass panels at the sides.
This means you can view the fire from the sides as well as from the front.
The log length is 390mm.
Technical Data
Height:

958

mm
Width:

500

mm
Depth:

447

mm
Flue Diameter: 150mm
Fuel: Woodburning
Nominal Heat Output: 6kW
Efficiency: 81.3%
Most Recent Review
My Aduro 9-3 was installed just over a year ago. 6 weeks ago while it was alight, I heard a noise which I thought to be a log settling. Immediately the fire began to burn furiously and only... [ read more ]

Stove expert replied: Aduro have responded to your inquiry with: Most probably, since there is a piece of the chimney liner in the fireplace, something must have happened up in the chimney, creating this situation. From what I can tell it looks like there is too much draft, perhaps the stove was fitted with a moderator or a damper that is now not active/damaged/open all the way. The problem doesn't seem to be related with the stove in any way. The best recommendation is to call back the Hetas registered installer that originally fitted it.
Most Popular Review
Great working stove but there are some flaws that ADURO needs to resolve. It is very easy to light and control. The auto draft control works really well. Some things to be aware of. The "Aduro... [ read more ]

Stove expert replied: A stove should not be operated in a shut down position for prolonged periods with out short periods of fast burn, this insures that tar residues are burnt off and do not collect in the flue system.
More reviews for Aduro 9 stove
Firstly, drilling the wall for the air supply pipe (I didn't fit the actual fire) I could tell that the 130mm dia. pipe was not going to fit using a 127mm core drill but after a few phone calls... [ read more ]

We moved into our brand new house in 2015 and wanted a log burner. We chose this one as being suitable for a well insulated, centrally heated house and at a competitive price. We were not disappointed... [ read more ]

Stove expert replied: Direct air models of the Aduro 9 stove allows for connection onto the stove either through the base or at the back and will prevent cooling of the room. The standard Aduro 9 stove does not have this facility.

After only one month the lacker comes off above the adurotronic lid. For that price we did not expect the body was just painted.