Aarrow Ecoburn Plus 4 stove

based on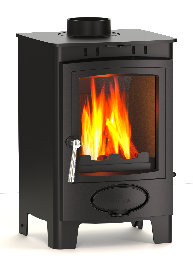 The 2012 newer model of the Aarrow Ecoburn includes a flexigrate -
This means you can change the grate from a flat bed to an open grate.
Technical Data
Height:

535

mm
Width:

355

mm
Depth:

365

mm
Flue Diameter: 100mm
Fuel: Multifuel
Nominal Heat Output: 4.5kW
Efficiency: 86.3%
Most Recent Review
I bought the stove new and have used it every day through two winters now and it has proved very satisfactory. Build quality is very good and there have been no problems at all with it.The glass... [ read more ]
Most Popular Review
I find the stove completely satisfactory, with the exception of the door handle which is constantly loose or falling off and gets far too hot. If this was redesigned, the stove would be as effective... [ read more ]
More reviews for Aarrow Ecoburn Plus 4 stove
The stove is great. Due to the size I was worried about the heat output, however it really packs a punch. Looks great and can fit decent size logs in. thoroughly recommend.