Aarrow Acorn 5 stove

based on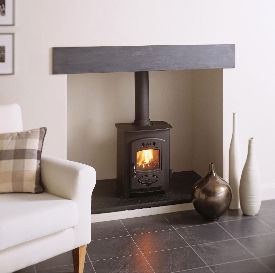 The Aarrow Acorn 5 is the slightly wider cousin to the Acorn 4 stove (only 40mm wider though), giving out 5kW instead of 4kW. A backboiler is available for the Acorn 5 stove which, if fitted, provides 2kW to the water whilst the stove then gives out 3kW of heat to the room. The Acorn 5 has an airwash system to help keep the glass free of deposits, and is a multifuel stove. When burning wood in the Acorn 5 the lower air vent is closed and the upper air control is used to control the fire. This situation is reversed when burning coal.
Technical Data
Height:

483

mm
Width:

395

mm
Depth:

350

mm
Flue Diameter: 100mm
Fuel: Multi fuel
Efficiency: 70.58%
Most Recent Review
I purchased an Acorn 5 stove last June, the paint smell that is associated with the initial lighting of the stove is still present ....and is causing me to have some distress and irration to... [ read more ]

Stove expert replied: The paint curing process on the stove takes a few firings so am doubtful that it is the stove causing the ongoing smell. I would suggest getting the flue system checked thoroughly.
Most Popular Review
The firebox is small which is a mixed blessing. Wood has to be cut right down, but on the other hand it is easy to get up to a really efficient high temperature. I have had the grate glowing... [ read more ]

Stove expert replied: As you say you are having trouble controlling the stove in windy conditions it would be worth investing in a damper or stabilizer so that control can be insured as if left unchecked damage to the unit can occur as it is being subjected to higher than normal working conditions during these periods. This can lead to component failure or in the worse case distortion of the stove body and as you have recognised this it would benefit from be corrected. The blanking plate should not have been able to come off as it should be inserted and twisted to lock it in place, however it is lucky that it did come off and not injure anyone or anything as the glass would otherwise have broken due to the explosion.