Aarrow Ecoburn 11 stove

based on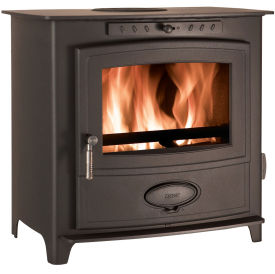 The Aarrow Ecoburn 11 is the biggest stove in this series - it has an 11kw heat output.
There is a single door on the front of the stove with 1 glass panel -
this glass has a curve to the top edge.
You can have an optional log stand or you can have a low or high canopy kit for the stove.
Most Recent Review
I've had this stove in now for 2 years. Gives out an OK heat but nothing spectacular. There is a good draw from it and burns through stuff pretty quickly. A big negative for me is the space... [ read more ]

Stove expert replied: You state there is a good draw, can you shut the stove down to a slumber mode only or is it busy all the time the stove is lit? An over-drawing flue can mean using a lot of fuel for little heat being produced. Have you an airbrick in the room as this size stove will definitely require one? Further investigation on both free air and flue draw suggested so improvements in the performance can be achieved.
Most Popular Review
A very good stove indeed. Yes, it IS expensive but you do get what you pay for. So what do you get? In short, an extremely heavy and very well made stove. The airwash is very good at keeping... [ read more ]

Stove expert replied: It is not good to have a large stove shut down all the time, woodburners should have to work which helps to maintain clear flues etc. If you are keeping on a low setting then twice a day you should allow a fast burn for 15 - 20 mins (Max) to burn off any tar residues that have been produced during the slow burning period.
More reviews for Aarrow Ecoburn 11 stove