Aarrow Ecoburn plus 7 multifuel stove

based on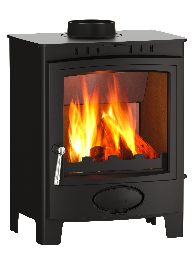 The Aarrow ecoburn 7 multi fuel stove has a bigger output and a plain look with a much wider glass.
Technical Data
Height:

585

mm
Width:

465

mm
Depth:

365

mm
Flue Diameter: 125mm
Fuel: Multifuel
Nominal Heat Output: 6.1kW
Efficiency: 72.1%
Most Recent Review
Got the stove installed in Dec 2016. First time using a stove. Still getting stale smell in room in the morning despite closing off vents before going to bed and raising the flue outside Vents... [ read more ]

Stove expert replied: Try leaving the vents open at night so that an air passage removing the flue gases remains, if you shut them down the the gases may stay in the firebox and hence the smell.
Most Popular Review
The idea was to save logs with a more efficient unit. This stove is much smaller but will give the same output. Normally it is run at lower level. The glass usually goes opaque black after 5... [ read more ]
More reviews for Aarrow Ecoburn plus 7 multifuel stove
I replaced a Yeoman Exe after 14 years of use and find the Aarrow more economical but due to a poor design of the wood grate at front ash tends to fall out when the door is opened. I have not burnt solid fuel on the stove. with good seasoned wood I have embers on the fire in the morning so would say it stays warm/alight for approx 8 hours... [ read more ]

Stove expert replied: Make sure that the wood is loaded well into the firebox to prevent the ash from falling out, possible smaller logs would help with this.

I bought an Eco burn 7 in November 2014 to replace a Franco Belge stove that runs for at least 6 months a year and has done for 26 years it has been moved elsewhere in the house where it... [ read more ]

I bought an Eco burn 7 in November 2014 to replace a Franco Belge stove that runs for at least 6 months a year and has done for 26 years it has been moved elsewhere in the house where it... [ read more ]