Westfire 17

based on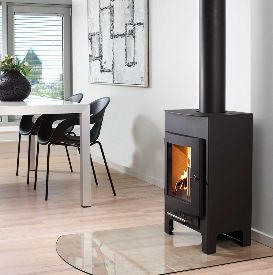 The Westfire 17 is a shorter version of the Westfire 18 -
and will therefore fit into a smaller fireplace opening.
It has 1 plain glass door with a good view of the fire and a curved top reflects the curve on the door.
Technical Data
Height:

750

mm
Width:

500

mm
Depth:

370

mm
Flue Diameter: 125mm
Fuel: Wood
Nominal Heat Output: 5kW
Efficiency: 80%
After a lot of research looking for the right stove for us, we decided on the Westfire 17 & haven't been disappointed! The stove looks brilliant and is larger than we were led to believe and... [ read more ]

Stove expert replied: Steel stoves will only maintain their output with full fireboxes and when this gets low the heat will reduce significantly, however, it is best to refuel only when little left in firebox as this is the most efficient use of the fuel inside!!