Stratford TF70 stove

based on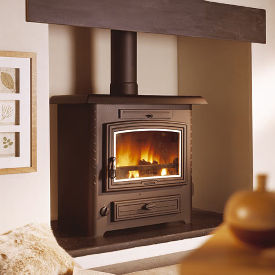 The Stratford TF70 stove is a plain boiler model with one door.
There is a flat top to the stove & the glass has a curve on the top edge.
The boiler will give up to 60.000btu to the radiator system.
All Stratford boiler models are built to EU standard testing EN13240 and the pressure is tested at 1.8bar.
It is recommended to leave the doors open in the summer time when not in use -
you can also lower the baffle plate for extra circulation of air and
put newspaper inside the firebox next to the boiler to absorb any condensation.
Technical Data
Height:

709

mm
Width:

780

mm
Depth:

486

mm
Flue Diameter: 150mm
Fuel: Multi fuel
Most Recent Review
We live in an old 1840' farm house in South Wales. The house has been very damp for many years, that was until we installed the new fire. I am running 11 rads of different sizes around the house... [ read more ]

Stove expert replied: If you refuel and give the stove a draw up with thermostat on max just before shutting down for the night you should find the water temperature improves. Suggest taking baths before this so that you can reheat the cooled water.
Most Popular Review
Excellent boiler stove providing the fuel is good
More reviews for Stratford TF70 stove