Stratford TF 50 stove

based on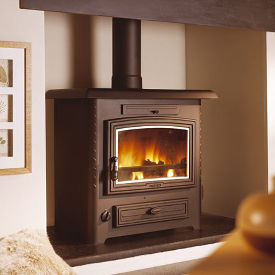 The Stratford TF 50 stove is a boiler model with a built in boiler of 45000btu -
as these Stratford stoves send most of the heat to the boiler & central heating system -
some people put a radiator in the same room as the stove - to assume enough heat in the middle of winter.
It can be advisable to provide good air flow to the stove in the summer time if you do not use the stove -
to avoid rusting.
This stove has now been replaced with the Aarrow Ecoburn 20
You do this by suplying extra air ventilation by leaving the door open or
lowering the baffle plate.
Most Recent Review
Sorry to say this but I have to put up with this stove for a while longer until I can afford to replace it.From the start I have had problems with the stove firstly the (ally) door trim immediately... [ read more ]

Stove expert replied: The trim on these stves is there to hold the glass clips in place. If it shrinks then the stove may have been over-fired at some point. They are in my usual experience a good boiler stove but of course this appears to be an unfortunate experience. Would suggest getting a new trim otherwise the glass gasket can fail which would lead to further complications.
Most Popular Review
A well finished stove with clean lines and a lack of dust catching ledges. Performs well and lights easily.The glitch? Shame that Stratford missed the fact that the front glass had been installed... [ read more ]

Stove expert replied: Very unusual for a stove to be sent out without the gasket, glad that this has been remedied with noticeable fuel efficiency.
More reviews for Stratford TF 50 stove