Stratford EB 12 HE stove

, page 2 of reviews based on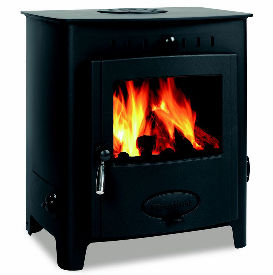 One of the Stratford boiler models -
giving 6kw to room -
and 9kw or 3900btu to water using wood
or
12kw or 41200btu using coal.
Technical Data
Height:

603

mm
Width:

533

mm
Depth:

412

mm
Flue Diameter: 125mm
Efficiency: 71.5%
Page 2/2 of reviews for Stratford EB 12 HE stove
I fitted this boiler stove almost exactly two years ago as part of a linked up system with an LPG boiler using a Dunsley Neutraliser (I wouldn't link up a system using a Dunsley again - it's... [ read more ]

Stove expert replied: The thermostat can be accessed through a side plate and will be much easier for cleaning or using a hoover with crevice tool to remove ash build up may be an alternative. It may be worth exploring an alternative control for your system as you are experiencing problems with the neutraliser, perhaps a heat load unit would do a better job.

I am very impressed with this stove, which works well in combination with a thermal store, It has cut my heating costs by 45%, heats the water and up to 6 radiators without any problems

Put this stove in last September and all I can say is that I am greatly disappointed with it. No heat to room even when the stove is burning flat out. Would be better off with an open fire!... [ read more ]

Stove expert replied: If little heat is being produced when burning flat out it may be that the flue draw is too great, sucking the heat up the chimney rather than allowing for the heat to radiate into the room. This model should provide up to 6kW's to the room and will depend on the fuel used, thermostat setting etc. Was the boiler calculated for the system that it is running? A radiator in the room where the boiler is installed may be required depending on the room size, radiators it is driving, hot water cylinder size etc.
2