Stovax Stockton 4 stove

based on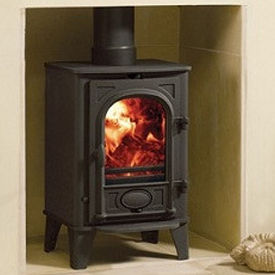 The Stovax Stockton 4 is available as a wood or multi fuel stove.
It is a small model with one door and has airwash and cleanburn.
This stove can have the flue coming out of the top or back of stove.
You can buy spares for all the Stovax models - they are readily available.
Technical Data
Height:

572

mm
Width:

389

mm
Depth:

291

mm
Flue Diameter: 125mm
Fuel: Multifuel
Nominal Heat Output: 4kW
Efficiency: 85%
Most Recent Review
Hello. feels strange actually writing a review after spending about 6 months reading them and agonising over what one to get. really happy I decided on the Stockton 4. it was a real struggle... [ read more ]
Most Popular Review
Excellent little stove that really chucks out the heat once you get it going. Takes about 1hr to properly warm up.It's a small stove, with a small output, but I don't know how you would use... [ read more ]
More reviews for Stovax Stockton 4 stove