Priory stove

based on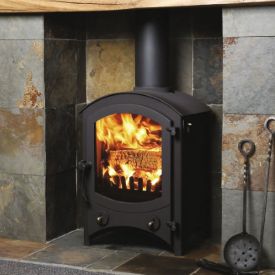 The Town & Country Priory stove is one of the newest models - this stove has 1 door with plain glass & a handle on the left hand side. There is a curved top to the stove and the air vents are below the door on the fire.
Most Recent Review
I was lucky enough to get a ex-display Priory stove for a good price. I have an old non insulated Edwardian detached house that is often cold in winter I have very high gas central heating bills... [ read more ]

Stove expert replied: A chimney should be lined if the property is of an older style say over 50 years, if it is not in good order or if it is larger internally than 9" diam or 12" square. It is important to keep the flue gases warm so you get a good lift up the chimney and away from the stove, and by reducing the size, using a liner, will aid this process. it also means the removal of gases are more efficient and prevents condensation forming as the flue gases go into a larger space than the initial flue pipe. On an older chimney the motar may not be in good condition, (this can be difficult to ascertain), and can lead to soot leakage / staining of the surrounding materials and possibly gas leakage.
Most Popular Review
Amazing stove. Has transformed our house. We have previously had a Villager stove fitted but the Priory is a far superior product. We have since purchased a Bransdale for another room in the... [ read more ]