Portway 1 contemporary stove

based on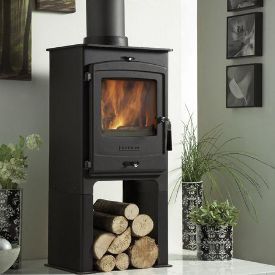 The Portway 1 contemporary stove is a Defra exempt 5kW multifuel stove.
Most Recent Review
We've had the protest 1 stove for just over a year. It gets nice and hot and we have found it to be quite controllable, getting an overnight burn when using smokeless fuel. Our only negative... [ read more ]
Most Popular Review
Summary : We bought this stove last August so we've had it for around a year. It's been great as a supplementary heating source. We have it installed with a flue liner in a 75m3 living room... [ read more ]

Stove expert replied: Honest feedback with good and bad points. Sound scores overall.
More reviews for Portway 1 contemporary stove
Had this stove for three years and its excellent. We had it installed in addition to the central heating but now almost never use the heating. Great with either smokeless (we use cpl no 5 at... [ read more ]

We have had this stove for 4 months. It is our first and so wish we had got one sooner. Ours is the Portway 1 and we have the extra tall legs. This allows me to easy access the fire and bending... [ read more ]

Had it since November, and it's been lovely. Had it fitted without a liner by a Hetas installer after having a full smoke test carried out, and Hetas installer and Hetas chimney sweep advised... [ read more ]

Stove expert replied: Good review, satisfied customer.